In Retrospect: ETHSeoul 2023 Hackathon
Experience the energy and groundbreaking projects at the 3-day festival for builders in the Korean and global Ethereum community.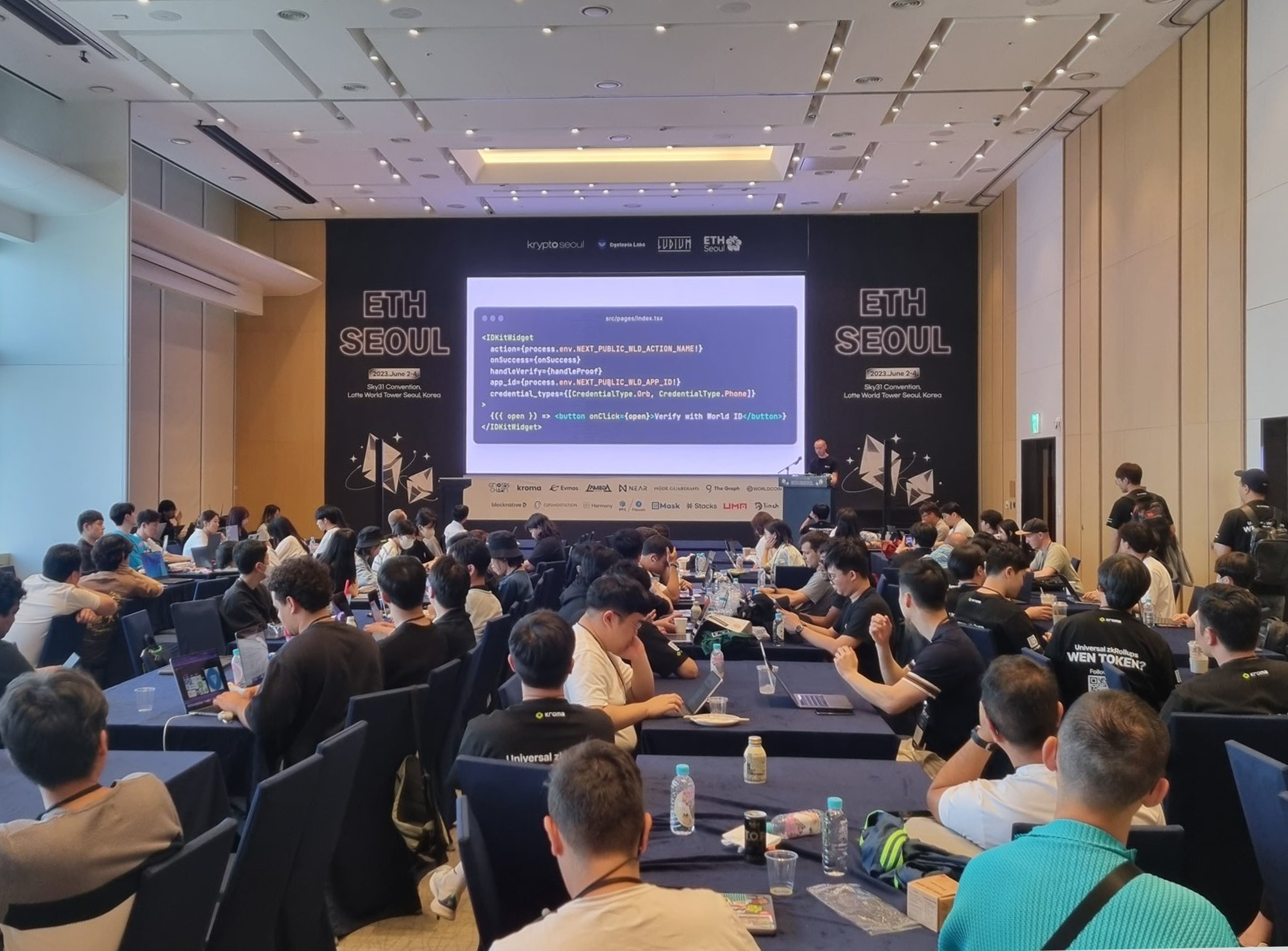 Introduction
Earlier this month, our friends at KryptoSeoul, DystopiaLabs, and Ludium hosted ETHSeoul 2023 on Devfolio! And we couldn't be happier to support and empower builders worldwide.
The hackathon took place from June 2 to 4, at the Sky31 Convention in Seoul, Korea, with an aim to unite builders in the Ethereum ecosystem worldwide. The hackathon was a massive success, with over $100K in bounties and hundreds of developers, designers, and entrepreneurs coming together from around the world to tinker and build on Ethereum. Besides, all the participants had an insanely fun time at the hackathon!
Being a part of this event allowed us to witness firsthand the participants' immense talent, creativity, and dedication. The hackathon showcased the collaborative and innovative spirit that drives us at Devfolio, and we are thrilled to have been a part of this experience.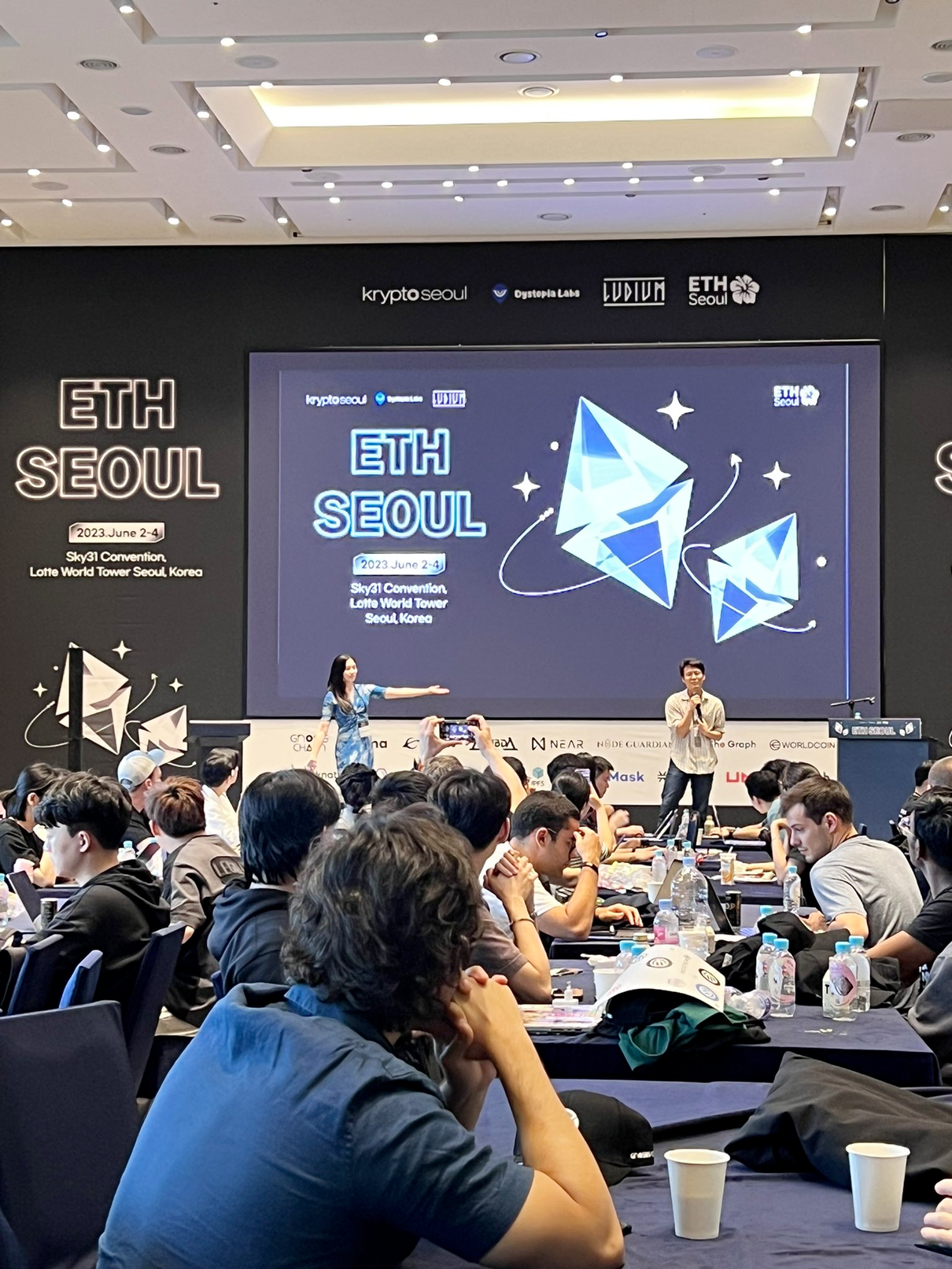 Now, it's time to meet the brilliant projects and builders that took the prizes home!
3..2..1..And the winners are! 💫
Simplifying DeFi with aggregated protocol information, optimized asset swapping, and seamless navigation through a single dApp for a user-friendly experience.
🛠️ Builders: Suha Jin, Jakyung Koo, and Sooyoung Lee
🏅 Winning tracks: Financial Application 1st prize, The Graph
Secure RPC relayer to detect the fraudulent activity of the destination address of transaction using machine learning model, and report to user if it is detected to be a phishing wallet.
🛠️ Builders: Chee Chyuan Ang, Wen Kang Chen, Jinsuk Park, and Kyungyeon Park
🏅 Winning tracks: Financial Application, Impact Application, & The Graph
Asset Optimization Service for LSD, maximizing DeFi returns with real-time data-driven investments.
🛠️ Builders: ilo yoon, Bohyeon Park, Haneul Eom, and yun kyunglee
🏅 Winning tracks: The Graph
A global decentralized platform for transparent expense splitting and payment recording, free from reliance on centralized institutions.
🛠️ Builders: Gnana Lakshmi, and  Srilakshmi Barathi
🏅 Winning tracks: Filecoin Pool Prize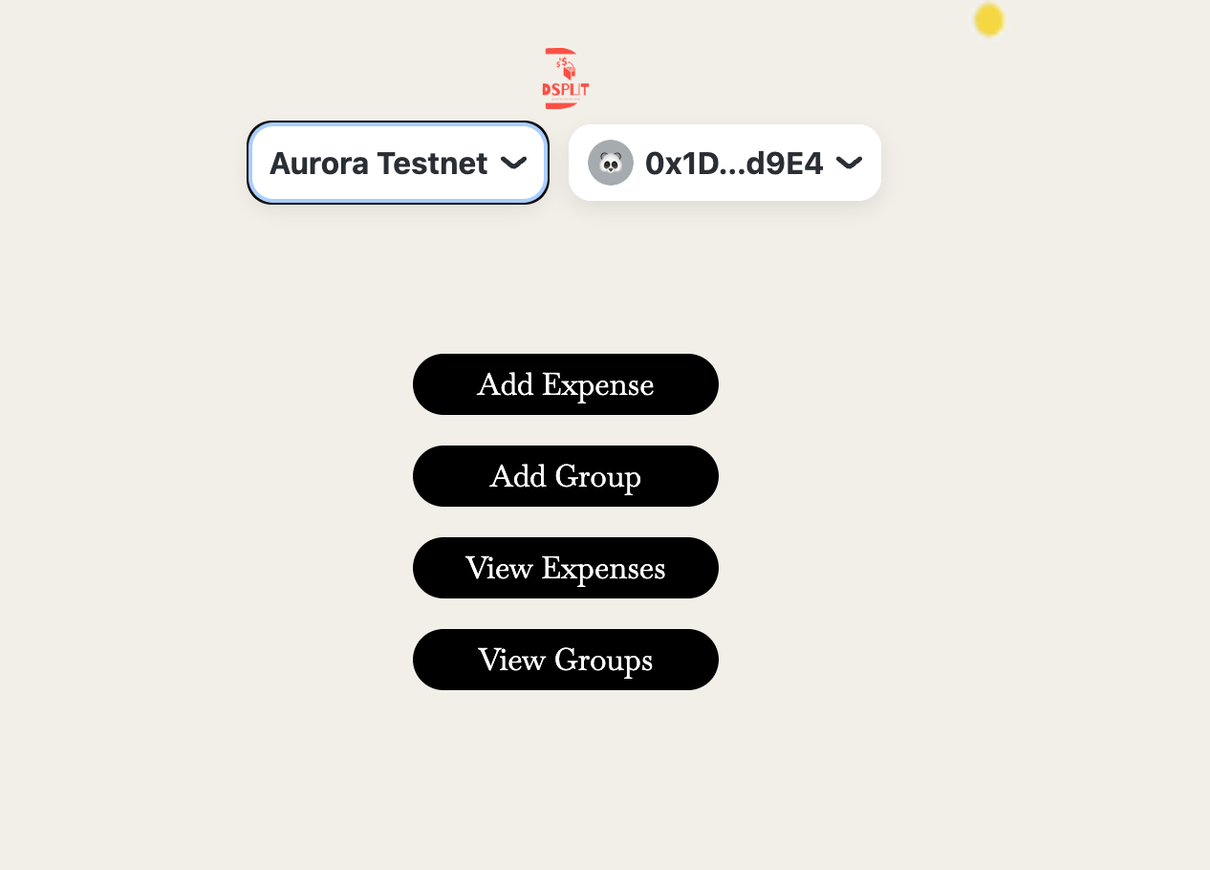 Seamlessly integrate Liquity service into Near Protocol projects, enabling developers to access liquidity without additional time and cost.
🛠️ Builders: Dylan Jeon, whys than, IDKN WHORU, and Se YoungHan
🏅 Winning tracks: Proximity Labs
Solving ticket reselling and excessive commissions by leveraging NFT ticketing and a World ID and enabling direct communication between artists and fans.
🛠️ Builders: Soma Sekimoto, Heejoo Kim, Seonwu Kim, and HOSUK CHUNG
🏅 Winning tracks: Worldcoin
Enabling users to use their Worldcoin biometric id to make a cross-chain transaction from any device.
🛠️ Builders: Sigrid Jin, Seungju Lee, Jihoon Song, and Danna Lee
🏅 Winning tracks: Worldcoin
Code-free user analytics for DApps — simplify onchain analysis, track behaviour, optimize projects, and make informed decisions to maximize returns.
🛠️ Builders: BO SEOK KIM, Sojeong Park, Subin Kim, Doyeon Kim, and Jaeyeon Han
🏅 Winning tracks: Web3.0 dApp
A Social-fi that aims for both self-improvement and financial profit by enabling people to use this tool to create a good daily routine.
🛠️ Builders: Sumin Cho, Daniel Jang, and inbum kim
🏅 Winning tracks: Web3.0 dApp
Automatic smart contract auditing and code refactoring using GPT4.
🛠️ Builders: Cailyn Yong
🏅 Winning tracks: Impact Application
Allows users to prove ownership over a specific NFT on mainnet on any other EVM chain, then mint an NFT with an embedded personality.
🛠️ Builders: TaeHo Chung, and Yi Hong Lin
🏅 Winning tracks: GnosisChain, Filecoin Pool Prize
Helping people to remember who they met at events and stay connected more easily.
🛠️ Builders: Shawn Park, Vladislav Lenskii, and Jordan
🏅 Winning tracks: GnosisChain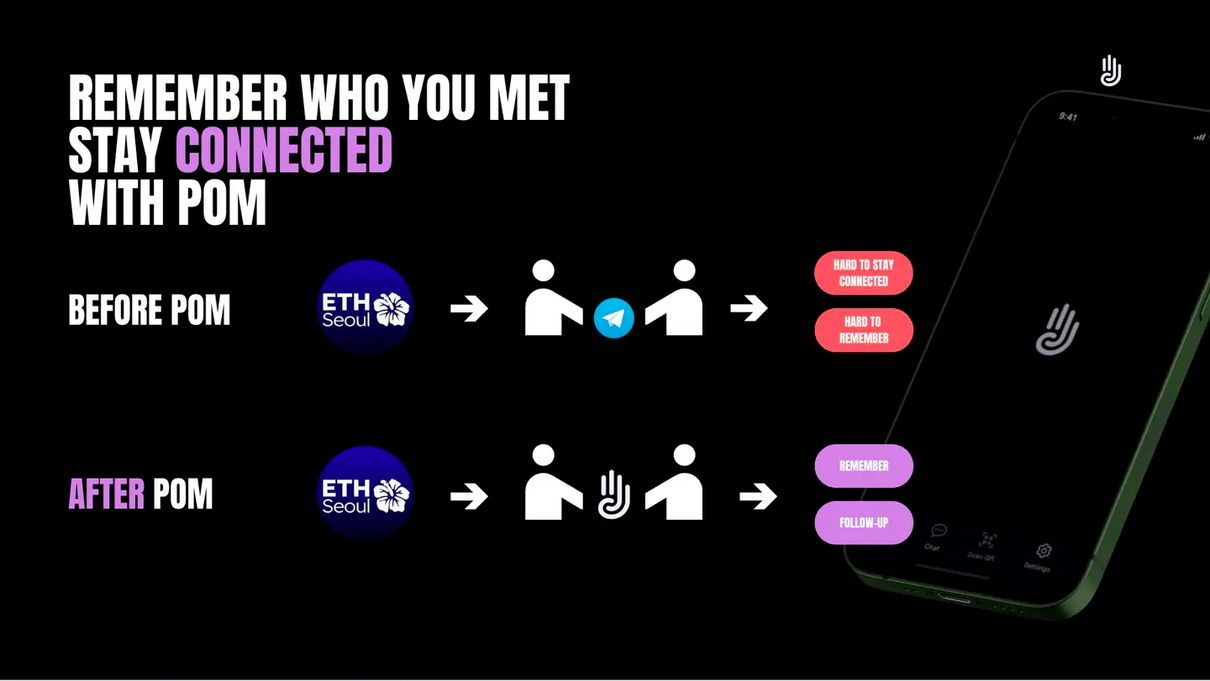 A mobile application that enhances the post-event experience with unique NFT photo cards.
🛠️ Builders: Heejin Kim, Seonja Kim, Dagyeom Lee, JOOHO KIM, Yujin Kim, and Jinsung Park
Winning tracks: NEAR Protocol
Turns characters and illustrations designed by artists into NFTs, and provides AI training data to NFT holders, allowing them to incorporate characters into newly created AI images.
🛠️ Builders: Duhoon Kang, Mingwan Kim, Yeji Shim, and Yunsu Lim
🏅 Winning tracks: NEAR Protocol
Liberating artistic creation with AGLIPPA's AI and blockchain technology and transforming moments into unique digital art pieces owned forever as NFTs.
🛠️ Builders: Hanyeol Cho, Jongwon Choi, Jungkyoun Kim, Seonae Kim, Joonsuk Lim, and Changkyun Kim
🏅 Winning tracks: NEAR Protocol
Connect, play, and referee football with like-minded individuals with transparency through blockchain-recorded transactions.
🛠️ Builders: Kris Haamer, jina lee, Seokhun Yoon, Doyoung Kim, and yujin park
🏅 Winning tracks: NEAR Protocol
Helps lower Sybil attacks to Airdrops, with proof of personhood powered by WorldId.
🛠️ Builders: Rafael Pedrola
🏅 Winning tracks: The Graph, Worldcoin
A dApp that aggregates event reviews by utilizing POAPs, helping individuals to participate in global events & activities and contribute by bringing valuable insights.
🛠️ Builders: Melanie Ramirez, Orlando Garcia, and gylman radius
🏅 Winning tracks: The Graph
DataDAO tool for self-sovereignty of community communications which enable storing mailing list & contacts on Filecoin.
🛠️ Builders: Vincent LCY
🏅 Winning tracks: Filecoin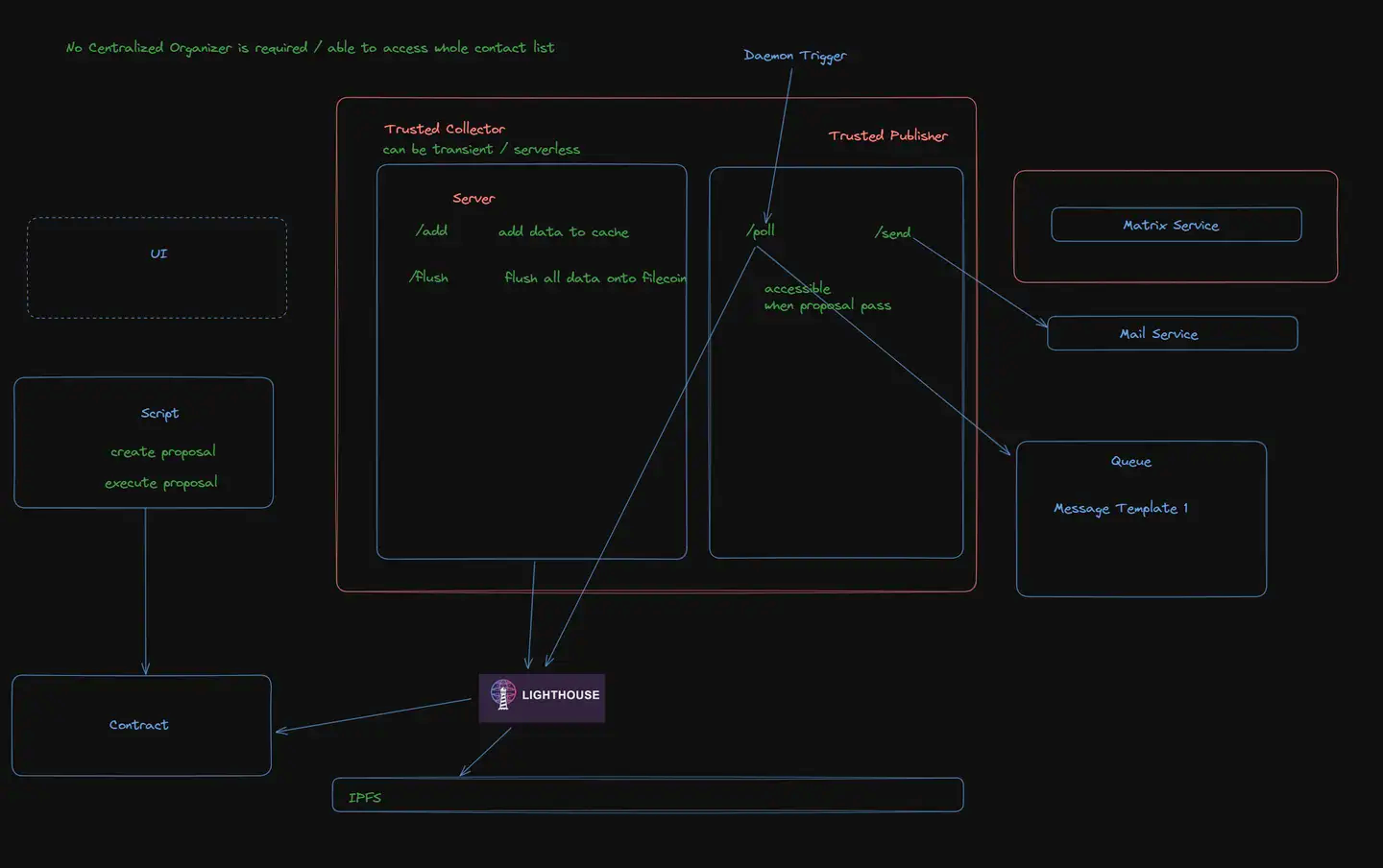 ReFi dApp designed to encourage and facilitate environmentally sustainable actions, combining crypto crowdfunding, game features with NFT and a vibrant community
🛠️ Builders: Jeongho Park, HYEONGJUN IM, JoungYun Lee, Marie Lee, Jiwon Jeong, and jimin Yoo
🏅 Winning tracks: Filecoin Pool Prize
Creating a permanent, meaningful snapshot of each day's global events.
🛠️ Builders: Joy Mun, sam suh, Shina Foo, Jiwoo Jun, and Prince John
🏅 Winning tracks: Worldcoin
Solving identity theft and tedious verification processes on social media with verified onchain handlers and streamlined user authentication.
🛠️ Builders: Bennett Yong, and Eric Mong
🏅 Winning tracks: Worldcoin
Censorship-resistant video platform with an innovative anti-bias mechanism.
🛠️ Builders: Seung jaesong, Geonwoo Shin, Jennifer Lee, and Yeaseo Kim
🏅 Winning tracks: Worldcoin
A framework for trustless, verifiable, and private card games on the blockchain.
🛠️ Builders: Seungtaek Oh, Sanghyeon Lee, and Youngchan Lee
🏅 Winning tracks: GnosisChain
Provides a curated feed of real-time onchain insights to crypto beginners in a way so easy that even a cat can understand.
🛠️ Builders: Kyoungseo Kim, Yooseok Jeong, Junghyun Nam, kwanhong Kim, and Keon Lee
🏅 Winning tracks: The Graph
Streamlining blockchain exploration by providing a CLI visualization tool for local and remote chain analysis.
🛠️ Builders: J Oak
🏅 Winning tracks: GnosisChain
Privacy-preserving protocol issuing soulbound tokens to better recognize and reward community members.
🛠️ Builders: Vincent Owen Toniwan, Yudhishthra Sugumaran, Brian Joseph Keyrupan, Gavin Owen Susanto, and Viman Vinesh
🏅 Winning tracks: Worldcoin
More projects built at the hackathon✨
Blue Bird: A cross-chain p2p exchange protocol that uses "notary" to enhance decentralization by minimizing the authority of central parts.
WAUF: A public good that aims to solve the three main problems in the fashion industry - environmental impact, authenticity verification, and bots and resellers.
Conimally: Bringing transparency, trust, and joy to companion animal videos while driving mass adoption through its token economy and NFT sponsorship.
PoPwallet: An internal protocol that allows wallets and WorldCoin IDs to corresponding 1:1 per chain.
Ego-NFT: Bringing NFTs and virtual characters to life by giving them personalities and interactive capabilities, enabling dynamic storytelling and content generation.
NICO: An Account Analytics Dapp designed to make users more familiar with Web 3.0 during the period of forming diverse user pools as mass adoption thrives.
StakeSwap: An AMM-based DEX, based on Uniswap V2, that guarantees double revenue sources to LPs by automatically swapping ETH to LSDs or directly staking into the liquidity pool.
WorldID: Users can link their social network usernames to their WorldCoin ID for verified human interactions in an increasingly bot-dominated online landscape.
Gabozago: Proving an algorithm was run fairly without revealing what the algorithm actually is.
Innopiatech-Vitalsign: A web application that utilizes the webcam of a laptop to measure physiological signals and uses deep learning to measure key biometric data.
Som P2P Futures Trading Market: A decentralized form of trading futures contracts directly between individuals or entities without the need for intermediaries such as traditional exchanges or brokers.
Poro CoinBot: Enabling users to access and manage their assets across multiple DeFi platforms and access real-time market data—all within a single, user-friendly interface.
TomaaS: A real-world asset lending platform for shared mobility services and easy & fast transactions.
De-Click: Provides a seamless user experience within familiar communication platforms like WhatsApp, enabling mass adoption and easy access to web3 technologies.
Flippando: Making Web3 adoption faster by offering an on-chain memory game that improves visual memory, rewards creativity, and enables the creation and utilization of NFTs for art.
Opium: Making it easy to design amazing onboarding and team-building experiences that leverage blockchain tech in the background.
Delivery: Solves the inconvenience and usability issues of AA Wallets by enabling seamless asset transfer and one-click creation of AA Wallets across different chains.
NFP - Near Fan Protocol: Eliminating resource waste and market manipulation in K-pop fan meets through blockchain-based NFT album verification and transparent raffle selection on the Near Protocol.
Cupid: An intelligent matchmaking project that aims to optimize the hackathon experience by promoting meaningful relationships and maximizing outcomes.
Conclusion
As we reflect on the innovations born at ETHSeoul, we are filled with excitement for what lies ahead. The projects built here will undoubtedly shape the future landscape of blockchain tech, leaving a lasting impact on industries far and wide. With each passing hackathon, the Ethereum community grows stronger, united by the common aim to revolutionize and redefine the world we live in.
With a diverse ensemble of skilled developers, visionary entrepreneurs, and blockchain enthusiasts, the ETHSeoul 2023 hackathon became a melting pot of groundbreaking projects. From reshaping decentralized finance and forging transparent supply chains to empowering artists and revolutionizing energy trading, ETHSeoul's winners and participants showcased the boundless potential embedded within the Ethereum ecosystem.
The journey towards a decentralized future is an ongoing one, and ETHSeoul has laid a part of the foundation for the exciting chapters yet to come. We are excitedly waiting for the next one!
---
P.S. You can host your Ethereum hackathon on Devfolio for free! 🥳
Check out our blog for more details: Level up your Ethereum hackathon experience with Devfolio
---
Stay tuned for more updates and interact with the Devfolio community at:
🐦 Twitter                                      📞 Telegram                                    🎮 Discord
Until then, Never Stop Building 🛠️