Devfolio Ethereum India Fellowship 2.0 is here!
TL;DR: Explore the Web3 world, learn from the best in the industry, build projects that might just become runaway hits, and eventually make worthwhile contributions to the Ethereum ecosystem.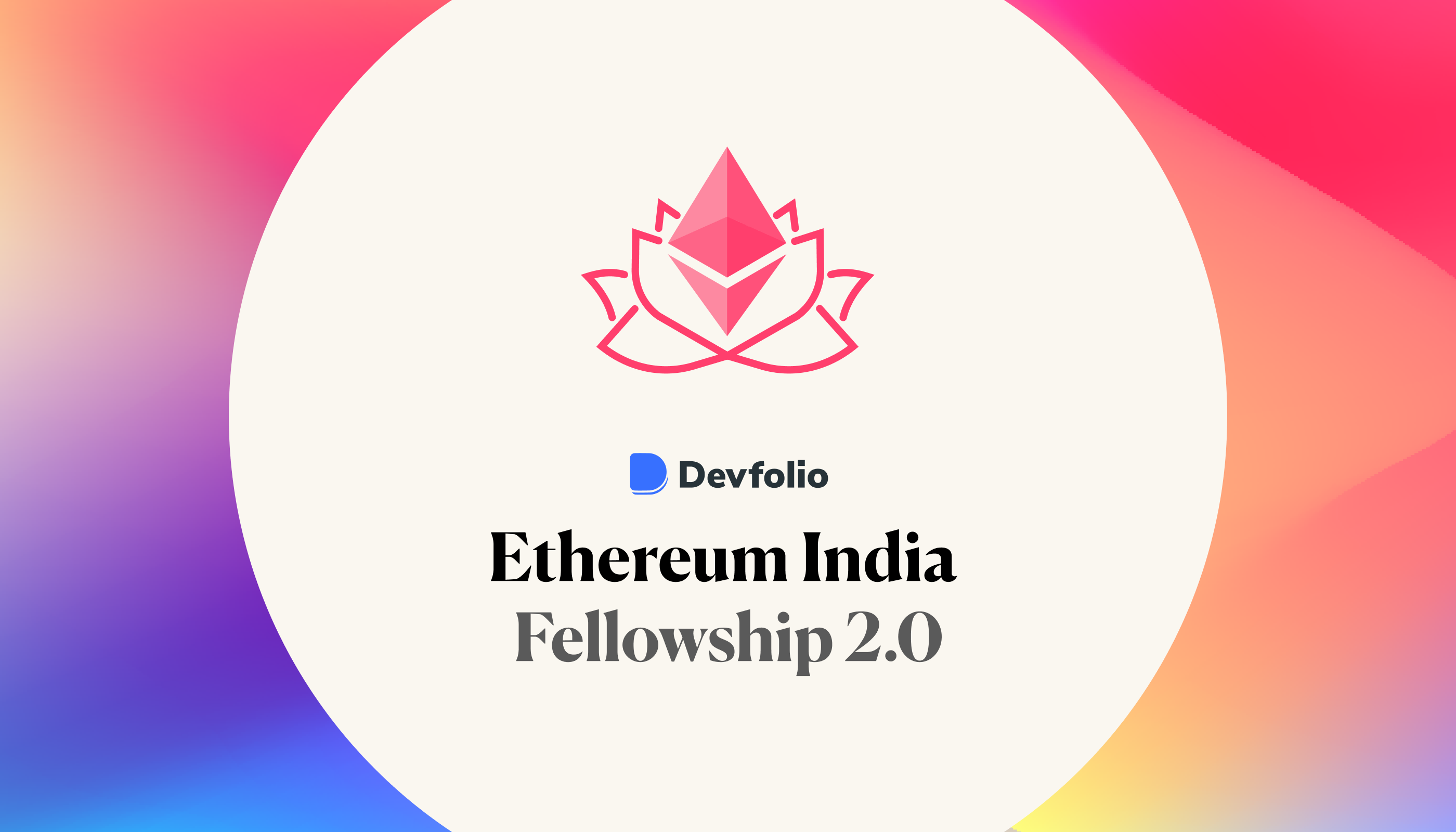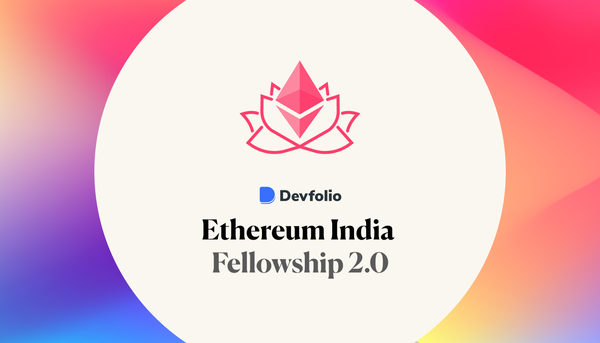 We're glad to announce the second edition of the Devfolio Ethereum India Fellowship, building upon the success of the first edition earlier this year. With an 8-week mentor-led format, the fellowship will boost our ongoing efforts to help the next generation of developer talent in India to discover, learn, and engage with Ethereum. Applications are open now: https://eif2.devfolio.co.
India is a hotbed of Web2 developer talent, with the potential for becoming a Web3 powerhouse. The ETHIndia and ETHIndia Online hackathons have been pivotal in helping the top talent in the country break into the Ethereum ecosystem. Through partnerships with leading projects in the ecosystem (Matic Network and Portis), we've also incentivized hackers across 150+ university hackathons in India to build on Ethereum. These efforts have led to significant ecosystem network efforts and kickstarting breakthrough projects like Instadapp, Incento, and, most recently, DefiDollar.
To complement our efforts and help promote Ethereum further in the developer ecosystem, we felt a need for dedicated initiatives to accelerate the next wave of adoption by developers enabling them to make meaningful contributions to the Ethereum ecosystem.
The First Edition
We hosted the 1st Ethereum India Fellowship in May 2020 — focusing on upskilling the top Web2 talent and onboarding them to the Web3 ecosystem over a period of 4 weeks. The fellowship turned out to be a big hit among the hacker community in India. We received 435 applications in 12 days, out of which 13 developers were selected. With the help of 4 mentors, they went through rigorous training and build sprints while having their fair share of fun along the way (check out the memes). Read more about the first edition here.
Presenting Edition 2.0
Learning from our experience with the first fellowship, we're glad to conduct a larger, 2nd edition of the Ethereum India Fellowship sponsored by the Ethereum Foundation this time — doubling down on our successes and involving 30 fellows for an 8-week fellowship. For the second edition, we have two tracks with different objectives.

Track1
The objective of Track1 is to educate, upskill, and introduce talented Web2 developers with no prior experience with Ethereum to Web3 development. 20 high-agency Web2 developers will be selected, whose Ethereum journey we aim to kickstart with this fellowship. Their 8-week journey will be divided into three main parts — Learn. Explore. Build. They will be paired off in groups of 2-3 with allotted mentors. They will go through detailed orientations and will be given a basic understanding of the ecosystem before they begin building. The associated payout over the course of the program is $1000.
Track2
For the advanced track, the objective is to provide mentorship and support to intermediate Web3 developers, to singularly focus on building full-time develop their skills and add value to the ecosystem. We'll select the 10 best developers with significant Web3 experience, whose complete potential we can bring out with superior 1-1 mentorship and access to the community resources, enabling them to focus on building full-time. The associated payout over the course of the program is $2000.
How does it work?
Fill out an application to make your case to join the fellowship. Schedule a remote interview once you receive your conditional acceptance and get invited to the fellowship cohort.
Work closely with the mentors to learn, build your skills, and contribute to the Ethereum ecosystem over eight weeks. The estimated time commitment is 40 hours per week.
Contribute regularly to the chosen project under the guidance of your mentor and receive stipend payouts every two weeks based on milestones achieved.
Timeline
Applications begin: 4:00 PM IST | 10 Dec 2020
Applications end: 23:59 PM IST | 3 Jan 2021
Interview Invites sent: 10:00 PM IST | 5 Jan 2021
Interviews: 6:00 PM - 8:00 PM IST | 6-19 Jan 2021
Final cohort results announced: 11:59 PM IST | 21 Jan 2021
Program Starts: 8:00 PM IST | 01 Feb 2021
Program Ends: 8:00 PM IST | 31 Mar 2021
Learn from the best in the industry and build projects that might just become runaway hits? Now, that sounds like something you sign up for at the speed of light!
Apply Now: https://eif2.devfolio.co
Did we miss anything? Reach out to us at [email protected]
P.S. If you'd want to contribute as a mentor, speaker, or be involved in any other capacity, feel free to get in touch.