Welcoming Solana as our University Hackathon Season Sponsor 🎊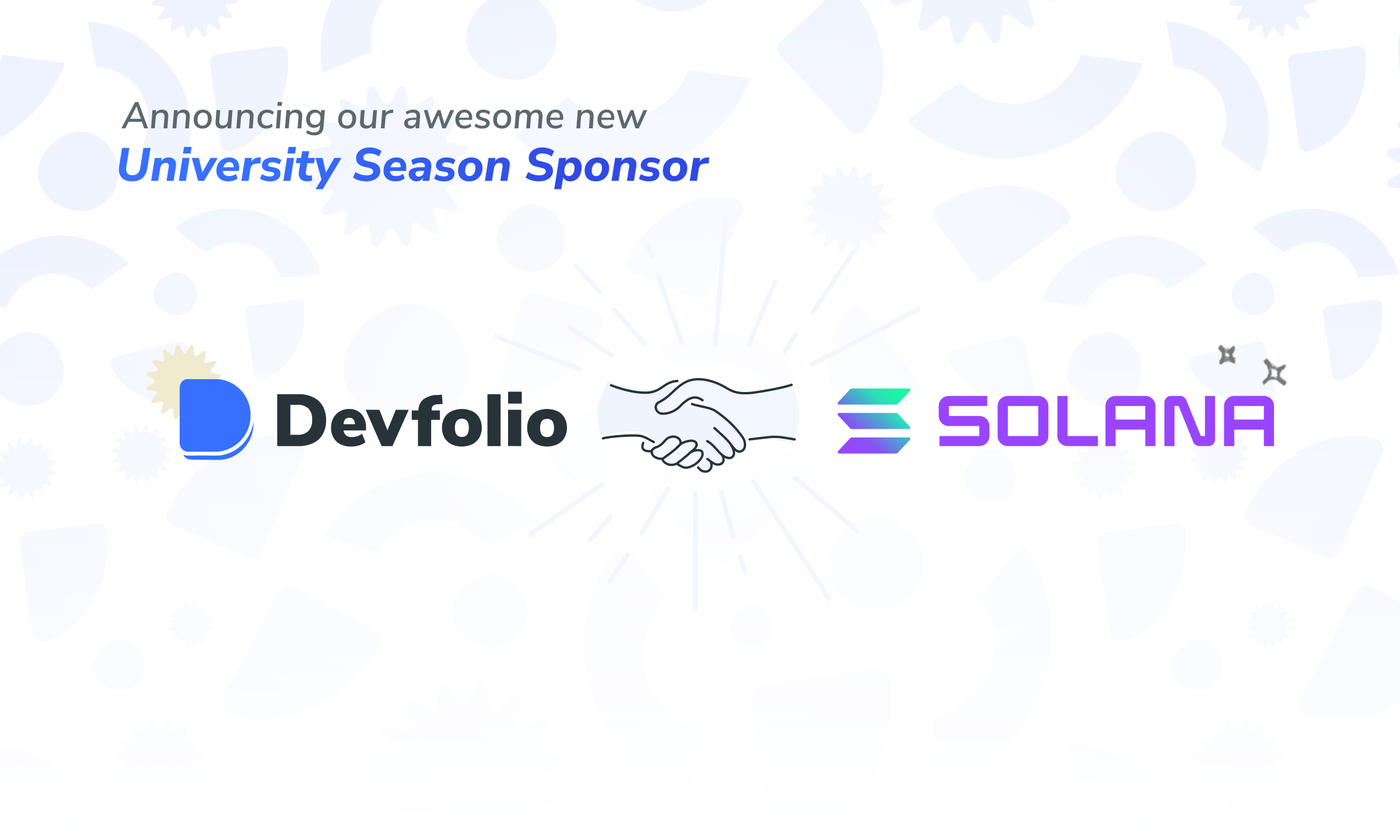 At Devfolio, we strive to support the most disruptive and promising projects, which can add value to our community and the builders' ecosystem. In this upcoming university hackathon season, with support from the Solana Foundation, we will be enabling thousands of such groundbreaking projects & help developers across the world to start learning, earning and building on Solana.
Introduction to Solana
---
Created in 2017 by Anatoly Yakovenko, Solana is a decentralised blockchain that enables scalable, user-friendly apps worldwide. It aims to scale beyond what is typically achieved by other blockchains while keeping costs low. Solana implements an innovative hybrid consensus model that combines a unique proof-of-history (PoH) algorithm with the lightning-fast synchronisation engine, a proof-of-stake (PoS) version. Solana is one of the fastest growing ecosystem in Web3 and we're thrilled to be working alongside them.
🤝 Our tryst with Solana
---
Building Out Loud (Mid 2021)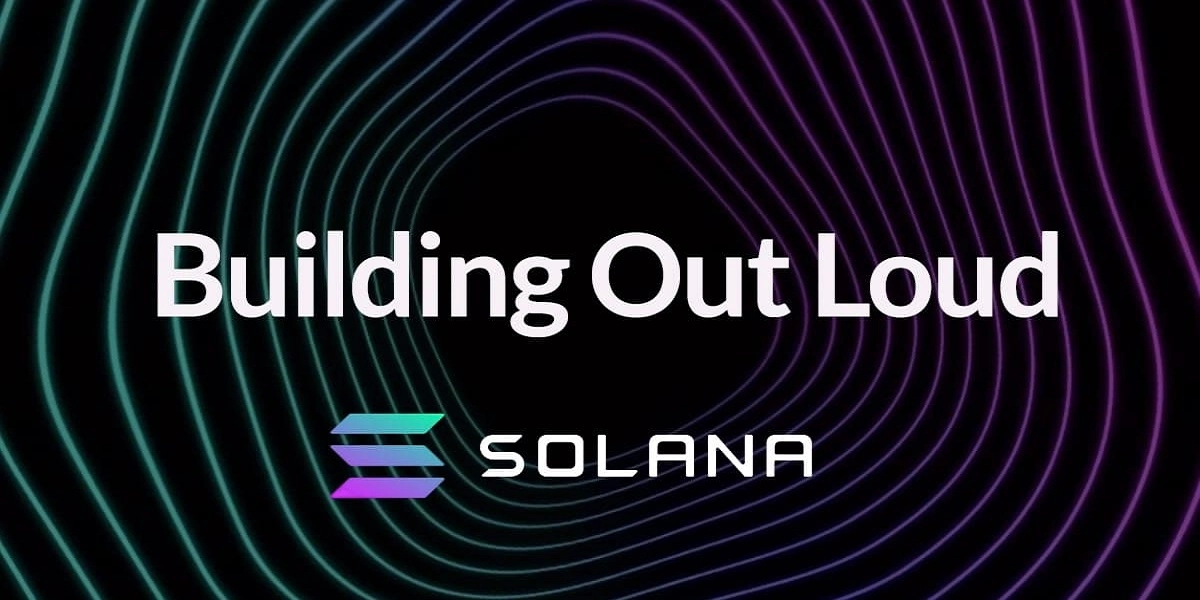 In August 2021, we hosted Building Out Loud with Solana — a hackathon exclusively for Indian Developers, with a stunning $80,000+ in prizes, besides special awards granted by Balaji Srinivasan, CRED, Republic.co, Lightspeed India Partners, Serum, Kunal Kapoor, Raj Gokal and Superteam. This hackathon set the Indian Solana community afloat, resulting in excellent Solana projects and acting as the seedbed for many talented devs.
Check out the projects built during Building Out Loud at https://building-out-loud.devfolio.co/projects.
Solana India Fellowship (Early 2022)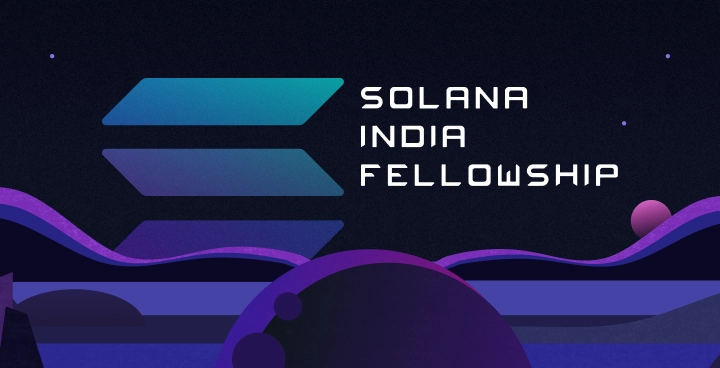 The Solana India Fellowship was a hands-on 8-week program for all interested developers to learn how to build on Solana. Each fellow received a $2500 stipend for their dedication, efforts, and curiosity. The participating fellows are now working at some of the top companies in crypto, like Zamp, GooseFX, CapX, etc.
Read more about the fellowship at https://devfolio.co/blog/solana-india-fellowship/.
🛠 Solana is Supporting All Devfolio University Hackathons
---
As a Hackathon Season Sponsor in Devfolio's University Season Program for 2022, Solana is supporting all the student-run hackathons on Devfolio. The participants will be eligible for a dedicated bounty and schwag, besides grants for noteworthy projects.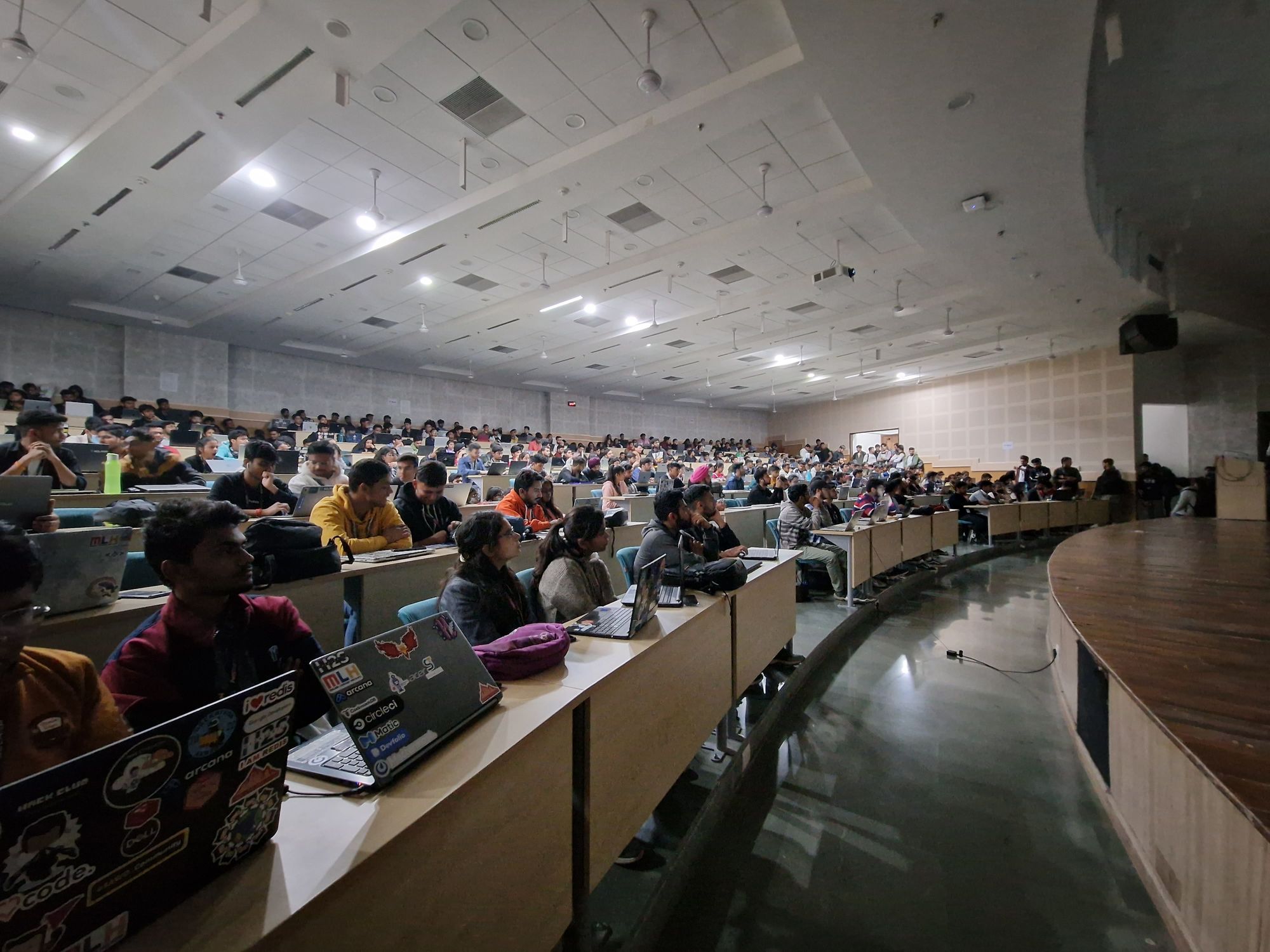 💰 Bounties are in Store for every hackathon!
Up to $USDC 850 is up for grabs for the best hacks built on top of Solana Blockchain at Devfolio-powered hackathons, with prizes for projects across expertise levels:
Young Gun: $USDC 100 for the best project made by beginners just starting on Solana
Rising Teknoking: $USDC 250 for the best project that demonstrates higher maturity and market-readiness
Master Glass eater: $USDC 500 for the best project that is ready for a beta launch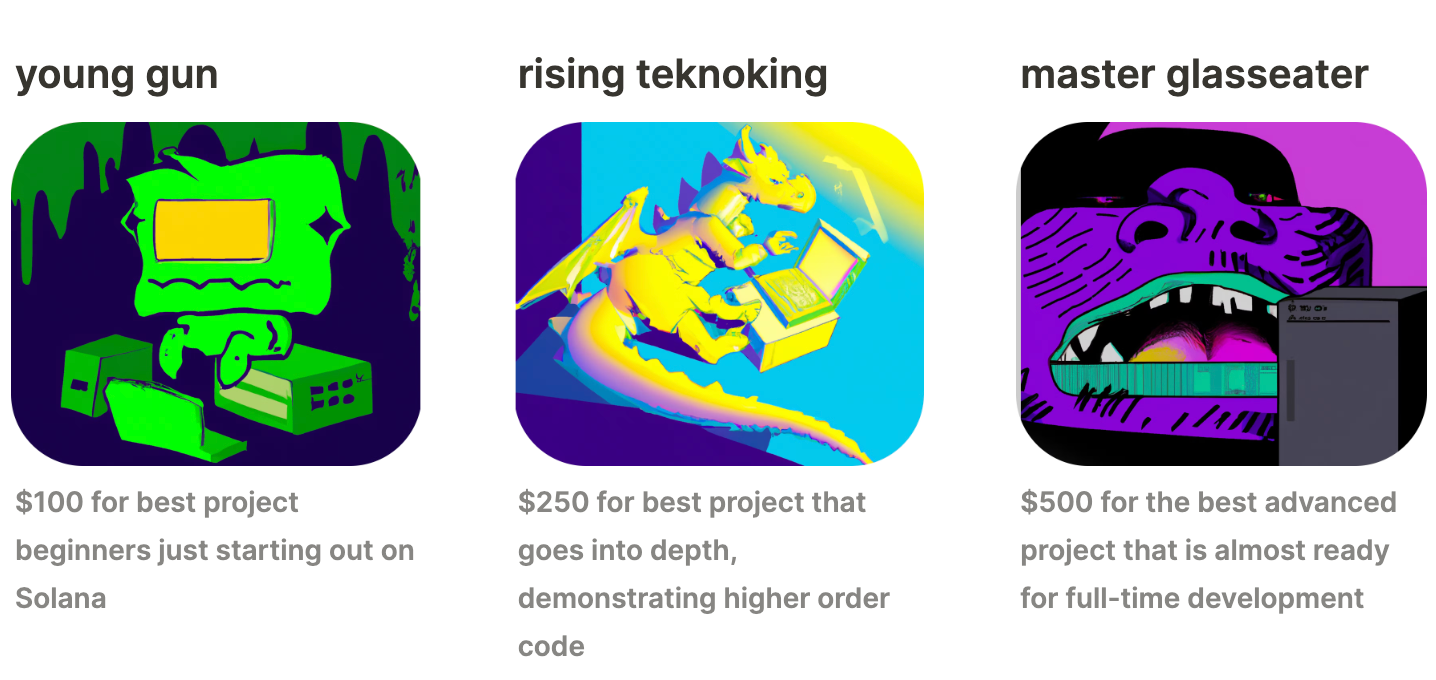 Read more about the prizes, submission guidelines, and judging criteria here.
💸 Solana Foundation Grants
Hackathon teams looking to continue working on their Solana Dapps beyond the hackathon can apply to the Solana Foundation India Grant Program for an equity-free grant. This program is supported by Superteam and will grant projects up to $USDC 10,000 and membership into Superteam upon being accepted.
🚢 Looking for ideas to work on?
There are opportunities to build across themes, but here are a few things we're actively thinking about these days in case you're looking for some ideas!
Promote Decentralisation. Create developer tooling and community projects focused on promoting and bringing more decentralisation to Solana and the world at large.
DAO Tooling: Create coordination, communication, and payment tools for communities using Solana as the backbone of their infrastructure.
Developer Tooling: Create tools, programs and hacks, making it easier and faster for engineers to build the next generation of dApps on Solana.
Consumer Payments: Build payments apps for consumers and businesses, making P2P payments and commerce better integrated with the crypto ecosystem using Solana Pay.
🤔 Would you like to organise a hackathon or participate in one?
---
For those who have prior experience in organising hackathons and want to do their part in fostering a flourishing builder culture, we urge you to host more Solana Hackathons. These hackathons will serve as a guide for prospective developers and open doors for fresher talent from remote regions across the nation.
To organise your hackathon, reach out to us via https://devfolio.co/organize and get access to our dashboard and other benefits for zero cost. Solana Foundation and Superteam will also support you with a cash grant, mentorship, marketing support, merch, F&B, and all you need to organise a fun hackathon!
To apply, read more and request sponsorship from Solana Foundation at https://superteam.fun/instagrants/solana-hackathon-sponsorships.
To participate in all the active hackathons, go to https://devfolio.co/hackathons and apply to as many hackathons as you'd like.
Stay tuned for more updates and interact with the Devfolio community at:
🐥 Twitter        📞 Telegram        🎮 Discord
Until then, Never Stop Building 🛠️