Start learning and earning by contributing to Solana
8 weeks, $2500 stipend, 20 fellows. Build out your project and pitch for funding, grants, and jobs on demo day.


TL;DR: Guided Rust and Solana fellowship to onboard young Indian devs into the Solana Ecosystem. 8 weeks, $2500 stipend, 20 fellows. Build out your project and pitch for funding, grants, and jobs on demo day.
After launching Solana in India with the Building Out Loud hackathon earlier in 2021, we're excited to host the Solana India fellowship for the Indians to start their Web3 journey in the fastest-growing blockchain ecosystem. The Solana India fellowship will be an 8 week-long fellowship organized by Superteam, in partnership with QuestBook, Devfolio, Solrazr, and Layer3. It's an excellent opportunity for budding developers to start learning, earning, and contributing to the Solana ecosystem. For more, read on👇
First of all, what is Solana? Why should I care?
For beginners, just like Ethereum, Solana is a Layer 1 blockchain, with many applications are built on top of it. Above all, Solana is incredibly fast and it can handle more than 65,000 TPS (transactions per second) as compared to the ~30 TPS on Ethereum. A transaction on the Solana network costs ~$0.0001 as compared to the ~$8–40 on Ethereum. With its fast speed, low transaction fees, secure and censorship-resistant blockchain - Solana is all said to foster decentralized applications that can support thousands of users without breaking.
Solana's ecosystem is rapidly growing with a great focus on building the next great decentralized exchange, prediction market, marketplace, and payment networks with an open infrastructure. It already has more than 5100+ projects that are running in Solana with $11.4 Billion+ in TVL, and is already a $50 Billion+ protocol!
To know more about Solana, check out this deep dive by Not Boring or the Superteam's Podcast with Solana Founders.
Apply for the Solana India Fellowship
To advance the mission of building the next generation of DApps on Solana from India, we are excited to launch the Solana India fellowship! It will see 20 of India's top developers be mentored and supported in learning Rust and then building on the Solana while receiving $2500 in stipend over the course of the 8-week program.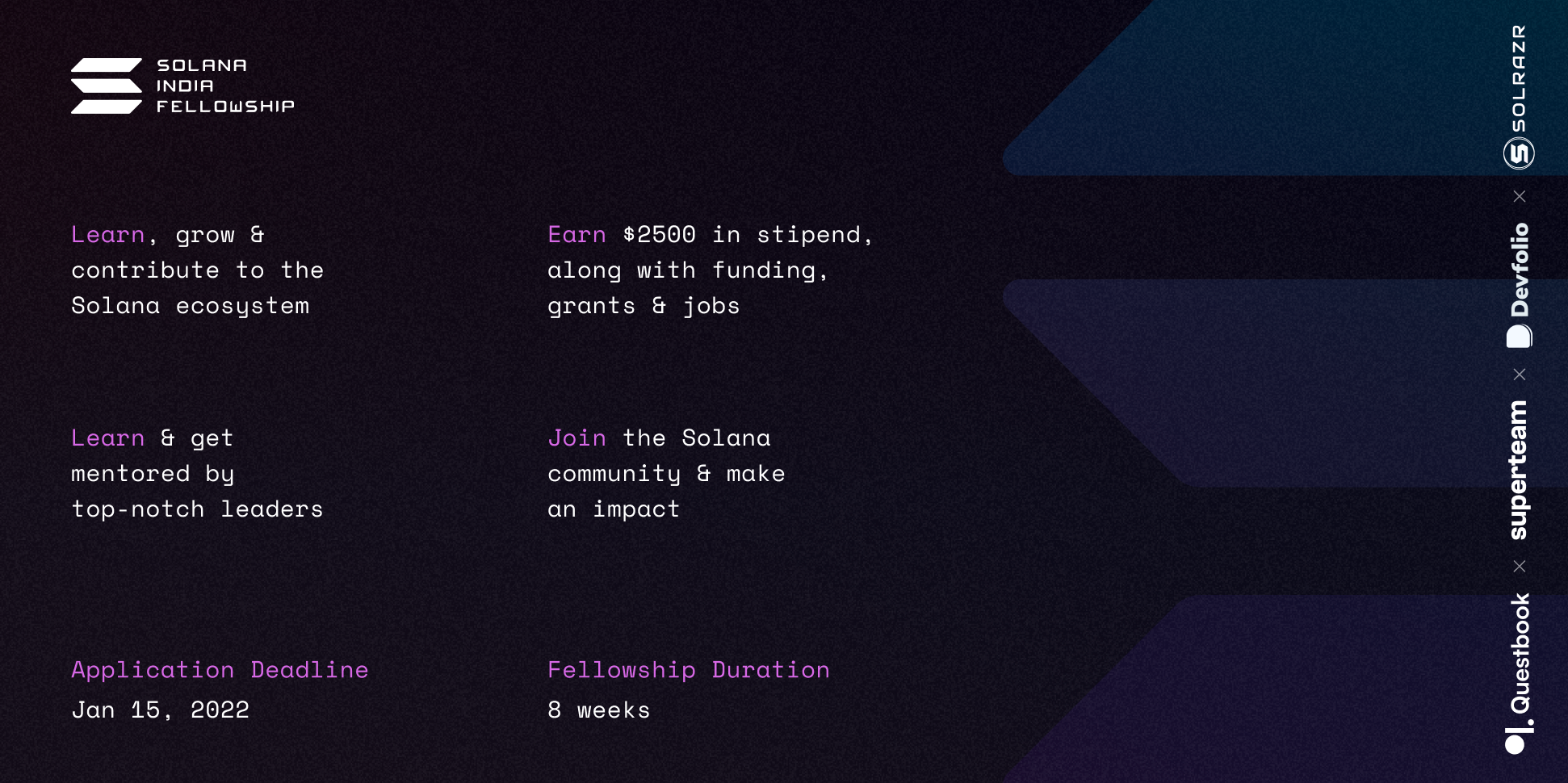 Why should you apply to the Solana India Fellowship:
Learn, build and contribute to the Solana ecosystem: With 17 quests prepared by Questbook, exercises every week, and building your own project, the fellowship will not only equip you with the necessary skills to build on Solana from scratch but also give you an opportunity to work with like-minded peers and contribute code to the Solana Ecosystem.
Earn and learn: A stipend of $2500 will be paid over the course of 8 weeks. The best part is you will have the chance to receive much larger grants and funding for your projects, or the opportunity to work with the hottest projects in Solana.
Get mentors by the best in crypto: Fellows will be mentored along by experts like Amy Wu (Partner, Lightspeed), Jenil (Founder, Coinvise), Shreyas Hariharan (Founder, Llama Community), Chase Barker (Developer Relations, Solana) and Kanav Karia (President, Jump Crypto), Preethi Kasireddy (Founder, DappCamp) on weekly themes like NFT, Gaming, DeFi, Community and DAOs.
Demo to pitch your project to the ecosystem: The fellowship will end with you pitching your project for grants or funding for further development, and at the least jobs to get involved in the Solana ecosystem full time.
How does it work?
Apply here to make your case for joining the fellowship as an individual. We will quickly review your application and get back to you with an interview invite and based on that, you will be accepted into the fellowship.
The Fellowship starts with an introduction to Rust and then over six weeks goes through 17 quests which take you through different aspects of building on Solana. Each week will focus on a theme — NFTs, creator economy, DeFi, gaming, product, and have related quests, exercises, and Q&A sessions with an expert in that space. In the second half of the fellowship, fellows are to start ideating and building their fellowship project from scratch.
The fellowship ends with a grand demo day where everyone will present their projects for further funding from grants, companies, and VCs, as well as an array of recruiters who'd be happy to onboard the fellows.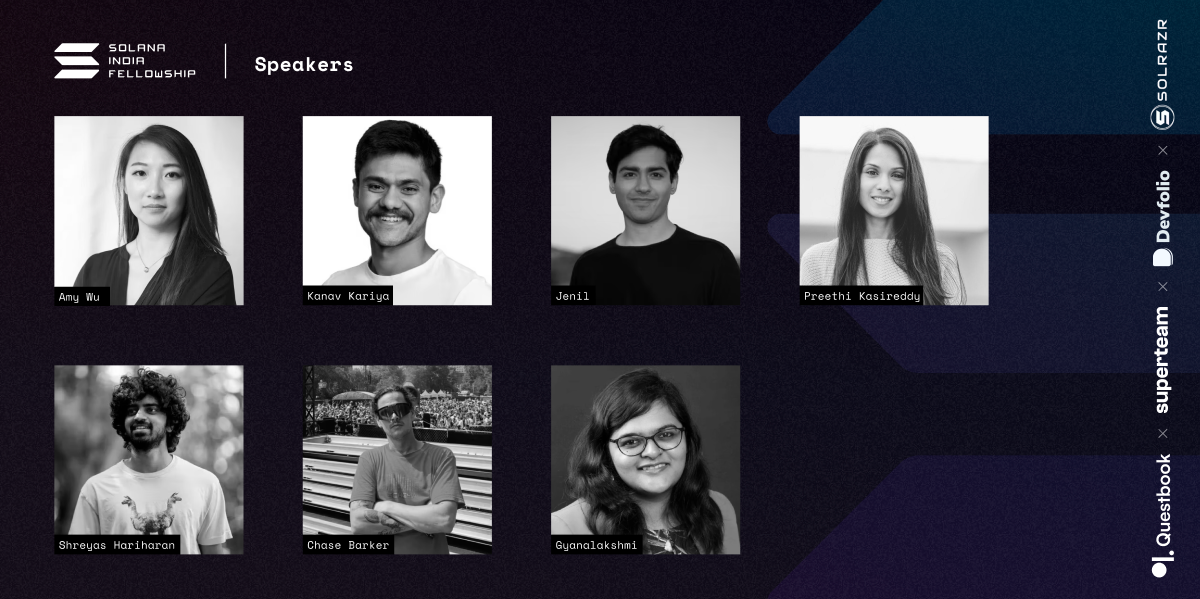 Timeline
Applications begin: 10:00 PM IST | 27 Dec 2021
Applications end: 23:59 PM IST | 15 Jan 2022
Interview Invitations: 2:00 PM IST | 17 Jan 2022
Interviews: 6:00 PM - 8:00 PM IST | 18-25 Jan 2022
Final cohort results announcement: 6:00 PM IST | 26 Jan 2022
Program Starts: 5:00 PM IST | 1 Feb 2022
Demo Day: 7:00 PM IST | 31 Mar 2022
As our community grows, so does our reach. Superteam is an example of that. So after the demo day, you can not only launch the product but also acquire customers from around the world, raise capital and scale your product from where you stay. If you are genuinely interested in learning, building from scratch, and showcasing projects to the best investors - don't miss out!
Apply right now: https://solana-india-fellowship.devfolio.co
👉 In case of any more questions, feel free to contact @neilshroff on Twitter or Telegram.