Replit — Our Newest University Hackathons Partner 🎊
We're stoked to announce our partnership with Replit for the upcoming Devfolio University Hackathon Season. Replit is the best platform for quickly starting, sharing, and developing projects in any programming language right from your browser.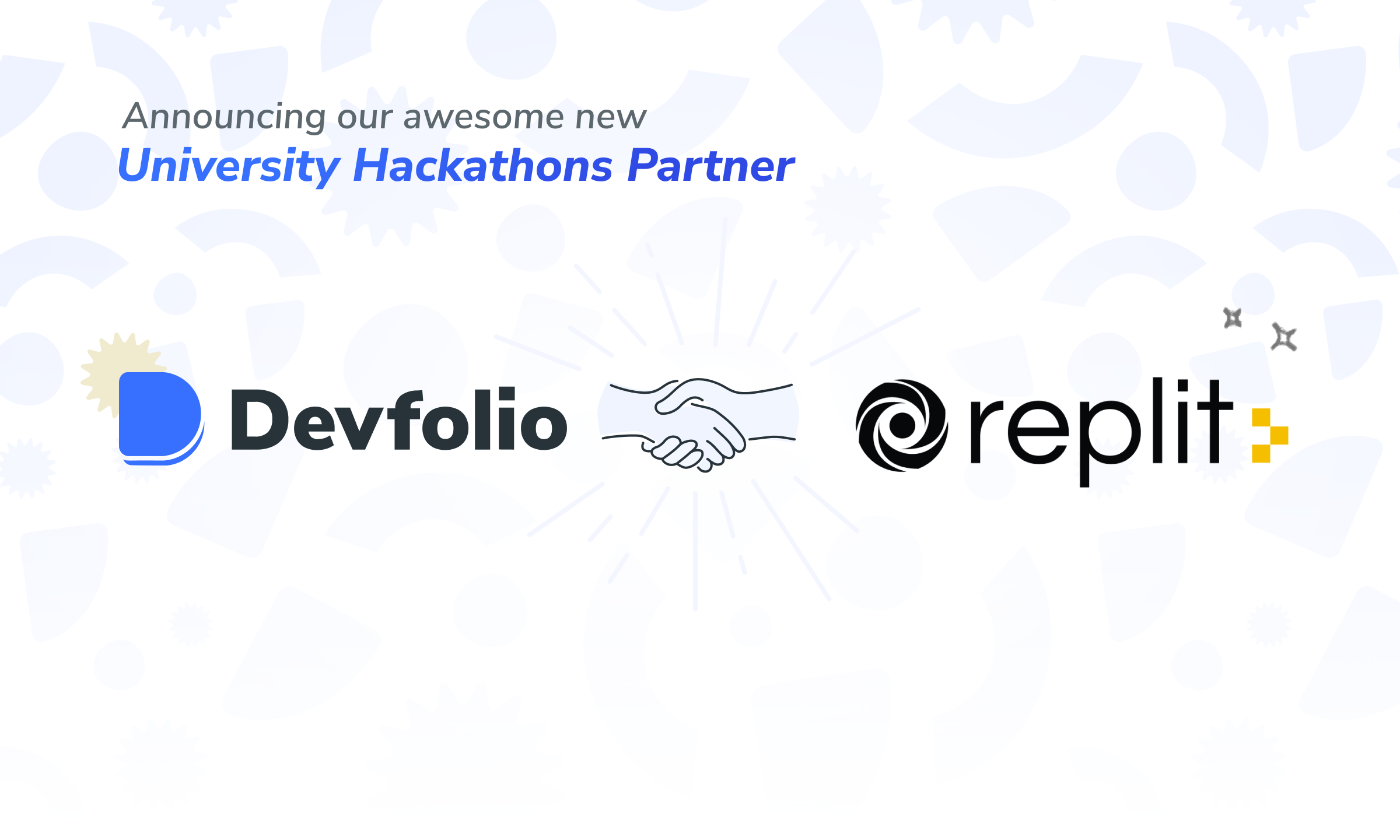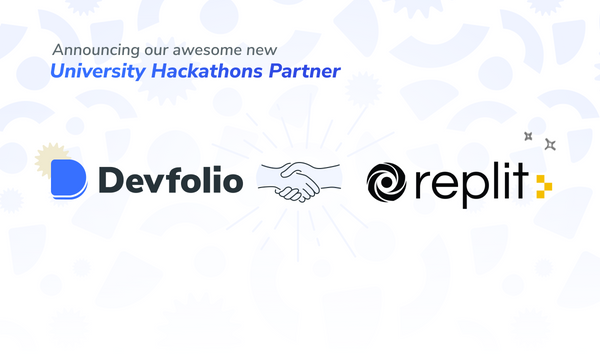 To add value to our beloved community and the builders' ecosystem as a whole, we at Devfolio are constantly seeking to support projects that showcase the most grit, diligence and passion. To help us with this vision, we are thrilled to partner with Replit for the upcoming university hackathon season.
🌀Replit: Code, Create, and Learn
At its core, Replit is a space to code, create, and learn in a collaborative environment. With Replit users can enjoy a Google Docs-like editing experience where they can see their collaborators' cursors. In addition, they can instantly get help from a community of millions of other programmers and learners. Thus making their team more productive with interactive docs, seamless git integration, and zero-hassle remote interviewing. On Replit, there is no deployment stage for projects as it instantly hosts all of the users' repls and is also welcoming of custom domains.
Devfolio Hackathons 🤝 Replit
As a Devfolio University Hackathon Season Partner in Devfolio's University Season Program for 2022, Replit will sponsor all student-run hackathons on Devfolio, offering a dedicated bounty & schwag in addition to providing their valuable mentorship & support.
💲Prizes up for grabs!
$50 to the winning project of the hackathon (must be deployed on Replit)
Replit schwag to 5 eligible submissions deployed on Replit.
Eligibility for internship / full-time role interviews
🕹 Get Started on Replit
Get started with this introductory video explaining all the major features on Replit.
🤔 How to participate in a hackathon or organise one?
We are big believers in the potential of students and budding developers; and are extremely excited to champion them in their drive to change the world using the power of emerging technologies. We're glad to have Replit join in as our University Hackathons season partner for 2022. We aim to provide learning and growth opportunities to students across India from all tiers of cities and colleges.
Go to https://devfolio.co/hackathons to explore and participate in all the active hackathons.
Read more about the prizes, submission guidelines, and judging criteria here.
To organize your own hackathon, we have a plethora of benefits in addition to our platform lined up for you including Monetary Sponsorship, additional bounties worth ₹1,00,000+! You can reach out to us via https://devfolio.co/organize 😃
Stay tuned for more updates and interact with the Devfolio community at:
🐥 Twitter                                📞 Telegram                              🎮 Discord
Until then, Never Stop Building 🛠️