Introooducing Quadratic Voting on Devfolio
Who doesn't like nuance? We sure do. More so when what's at stake are projects which could turn the tide for the future of tech. Say gm to a nuanced project judging mechanism on Devfolio.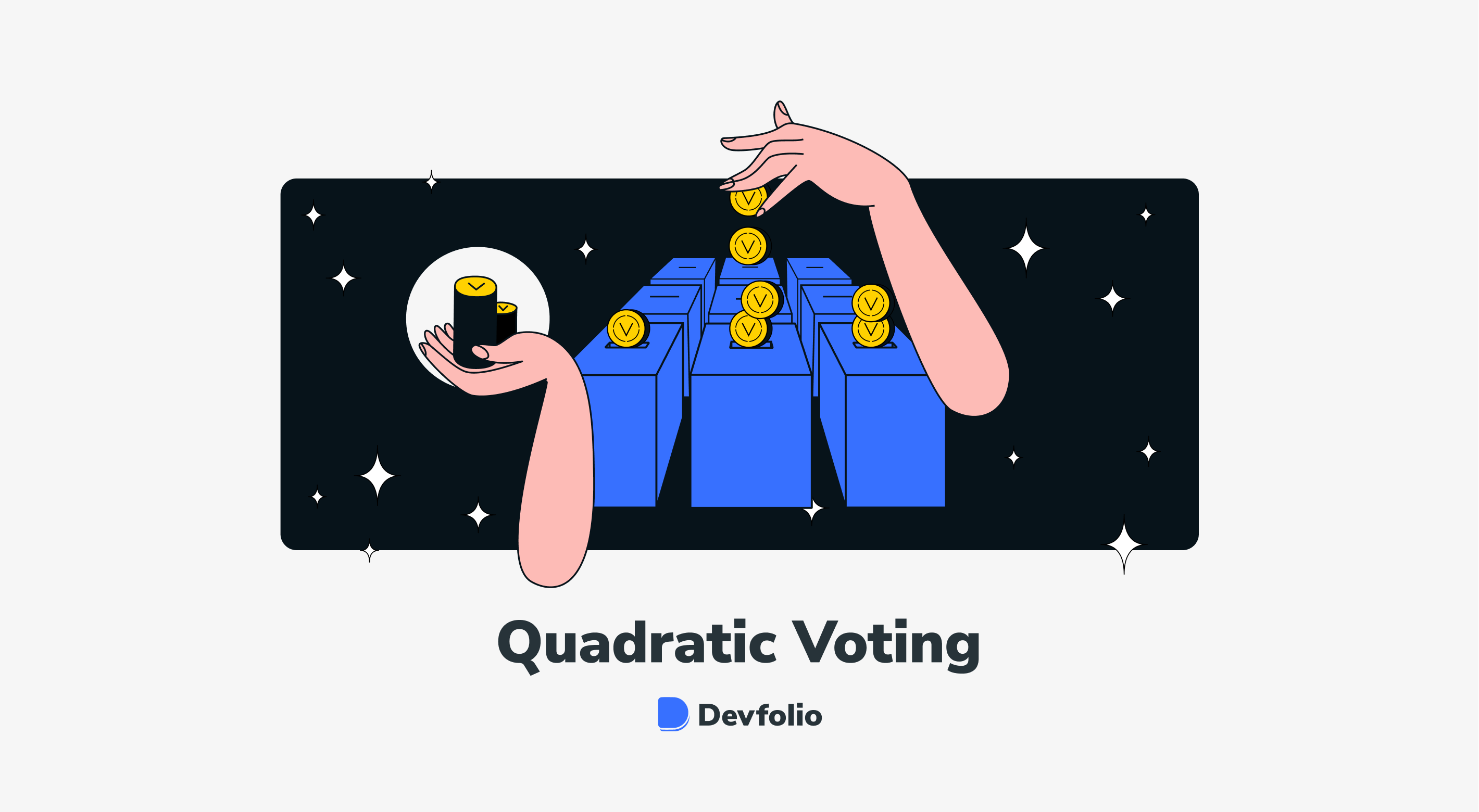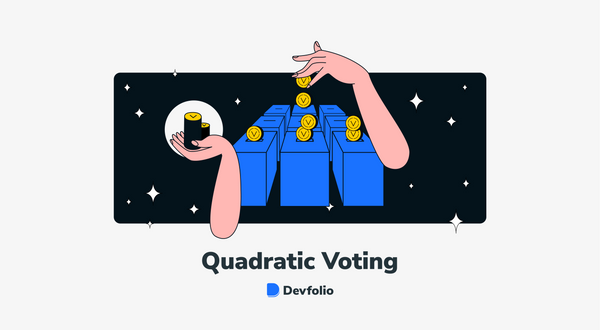 Introduction
Transparent, fair, and community-empowering processes are what we're wholehearted fans of. This was our intention when we implemented Quadratic Funding in InOut 7.0, albeit as an experiment, and we still stand firmly by it.
We're delighted to tell you that we're introducing Quadratic Voting on Devfolio, starting with the ETHforAll hackathon. With each vote being recorded on the Ethereum L2, Arbitrum, we're ready to utilise its decentralized and secure nature to help our community take their projects to the moon.
---
What is Quadratic Voting?
It's a framework that gives the power back to the people and the community at large, and no, we're not talking about democracy.
In a general sense, Quadratic Voting is a collective decision-making process that goes beyond a simple yes or no vote, enabling people to choose the intensity of their preferences. And we decided to implement it at hackathons.
Why? Because hackathons result in a wide range of projects, and it can be challenging to determine which projects are the most liked by people. This is where QV comes in, enabling people to vote depending on how much they like a project.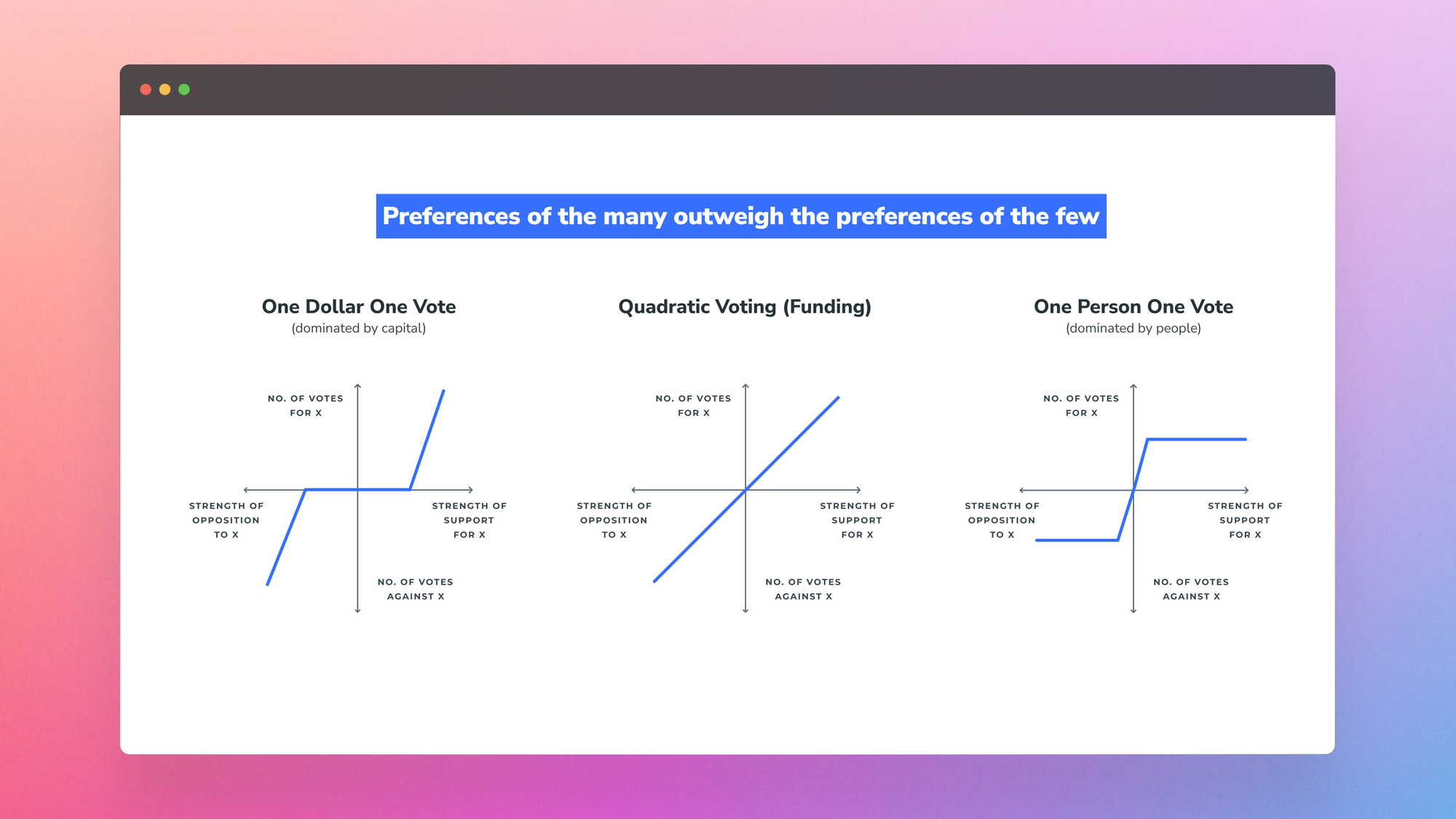 Each person gets an x number of votes allotted to them during the judging process, which they can choose to distribute across projects as per their liking. Once the voting deadline ends, the results are generated using the Quadratic Voting mechanism.
Quadratic Voting is designed to even the distribution of voting power. This prevents the decision-making power from being concentrated with a handful of people, making the process decentralized.
Here's how QV with a Matching Pool works with a simple example: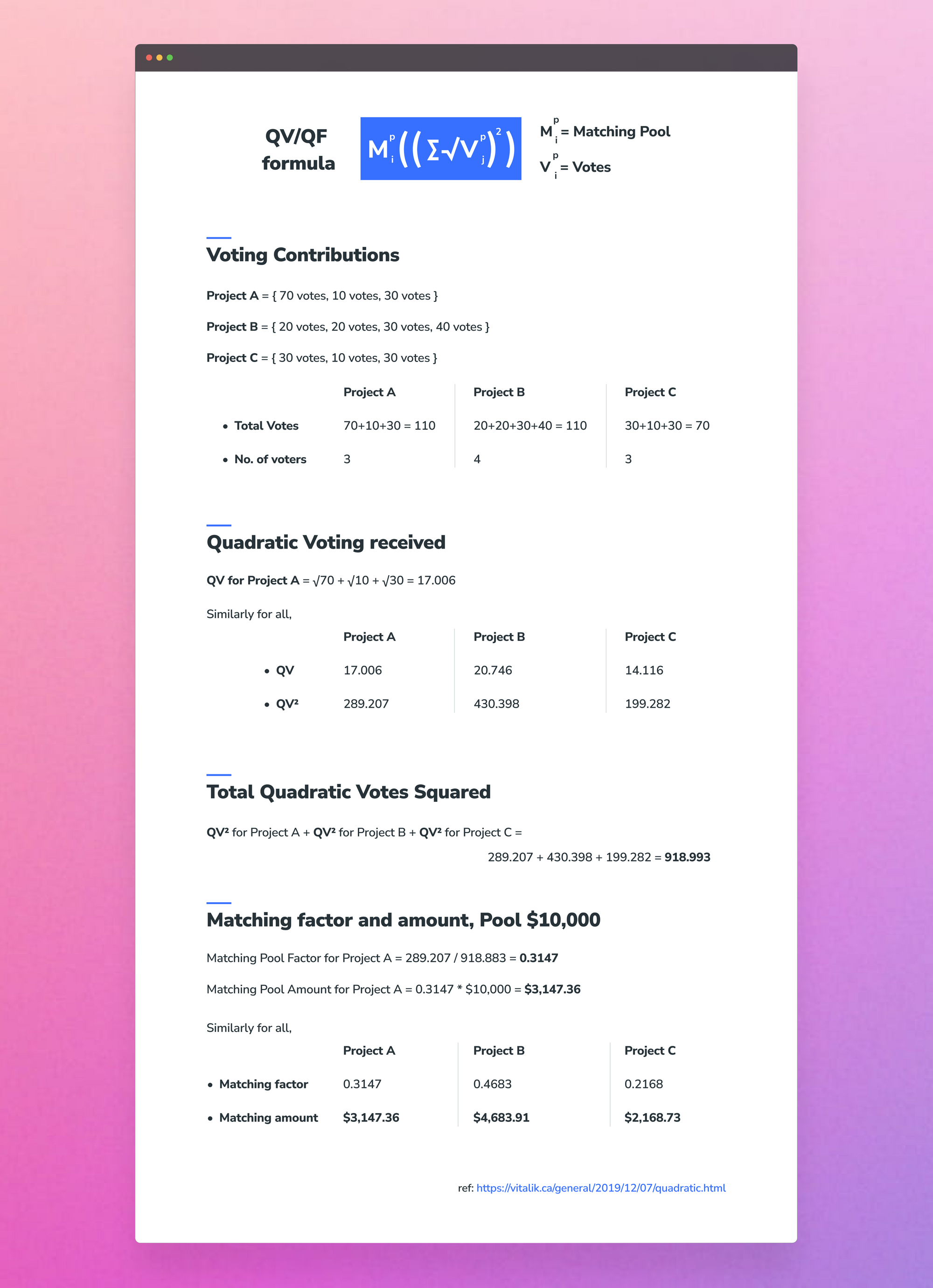 ---
Our Intention Behind Introducing Quadratic Voting
We're beyond stoked to introduce QV on the platform, and here's why:
More reliable and transparent: So far, the traditional way of judging projects at a hackathon has largely been at the discretion of a few judges, giving way to biased results in some sense. Contrary to this, Quadratic Voting allows every person to act on their opinion of a large number of projects by voting for them. And ultimately, every vote translates into some amount of $$ depending upon the funding pool size.
Enables the community: On Devfolio, QV would be enabled for all the eligible hackathon participants, including builders who've submitted valid projects, partners, organizers, and speakers. This enables and empowers the entire community to participate in the judging process.
Increases participation: When each vote counts, people realize the power they wield in making a project stand out. This increases overall community participation and ensures the coming together of diverse perspectives in the decision-making process.
Ensures fair distribution of resources: QV helps in ensuring that the funding pool is distributed fairly among the projects instead of getting concentrated among a few projects declared as winners by a handful of people.
---
How does it work on Devfolio?
Let us show you how! Watch the Loom walkthrough or read the process given below:
The voting process:
Open the Quadratic Voting tab on the hackathon page (visible only to eligible participants).
Connect your Ethereum wallet to Devfolio.
Click on the + and - icons, or type in a number to distribute your votes.
Spend all your 100 votes, review them, and click on Submit.
After submitting, you can view the attestation for your votes on EAS Scan and check out the results once they are announced.
Once the voting deadline ends, the projects will undergo plagiarism and collusion checks by the Devfolio team, and announce results on the hackathon leaderboard.
---
Ethereum Attestation Service 🤝 Devfolio
We've integrated Ethereum Attestation Service (EAS) on Devfolio, a public good for creating, verifying, and revoking on/off-chain attestations. We'll use EAS to create attestations for your votes against your wallet address, along with taking care of the gas fees, and these attestations will be visible on the EAS Scan.
You can easily view these attestations, which will look like this: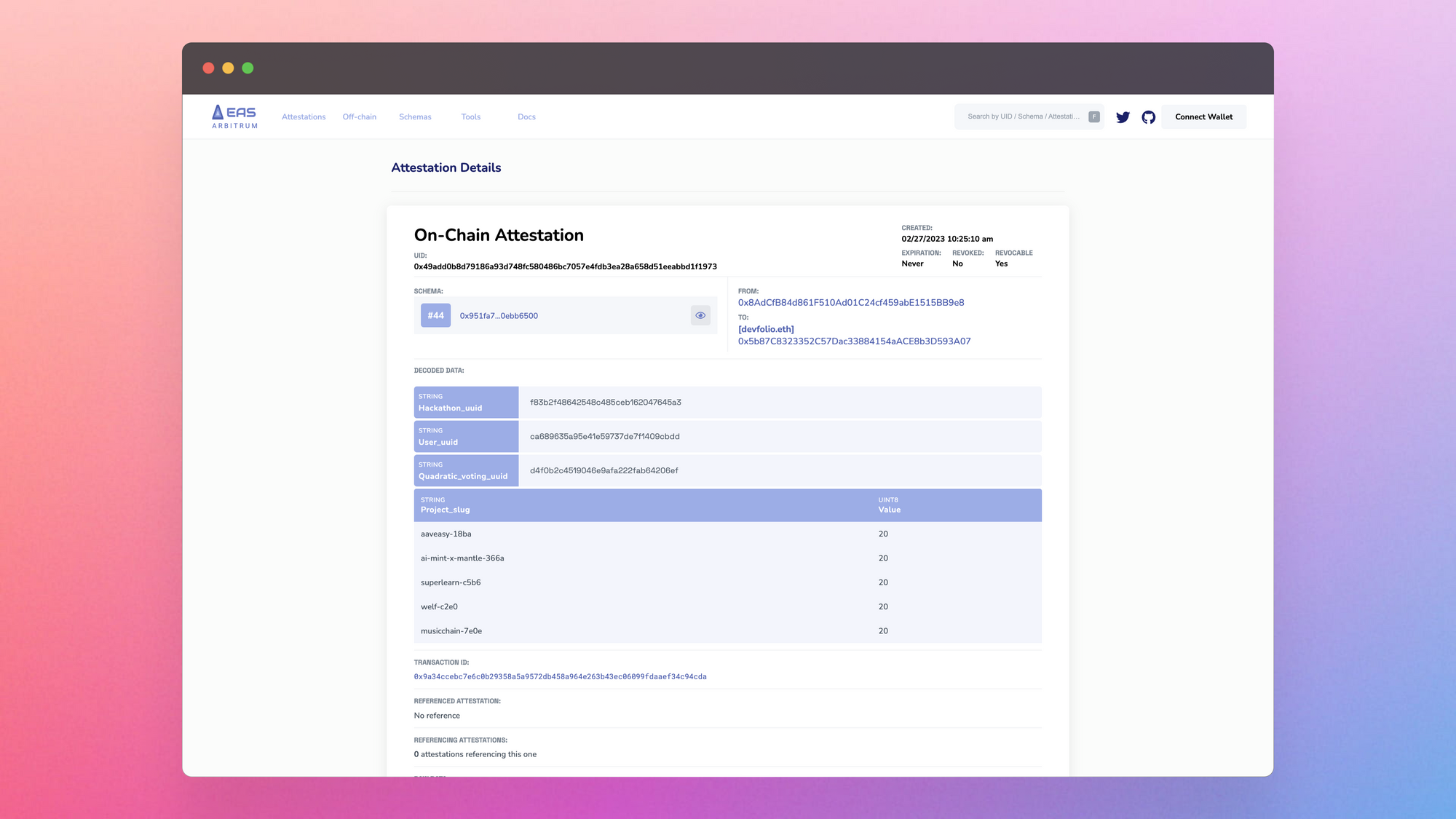 Once you've submitted your votes, you can view the attestations on EAS Scan using the 'Quadratic Voting' tab on the hackathon dashboard.
To learn more about EAS, you can follow them at @eas_eth or visit their website at attest.sh.
---
For Builders — How to make the most of Quadratic Voting?
Your project page will be the single source of information for all the voters, which makes it crucial that it has all the relevant information one would need to decide if they want to vote for your project.
To ensure this, keep the following points in mind:
Add all the important information about your project, along with detailed context in the forms of description, images, videos, GitHub links, etc., to your project page.
After submitting the project, make sure to keep it updated so that no bit of your hard work goes unseen.
Make sure that your Devfolio profile is up to date at all points in time. This helps the voters to learn more deeply and personally about you and your overarching motivations.
---
Quadratic Voting at ETHforAll
If you're participating in the ETHforAll Quadratic Voting, here are some points to note:
The total QV prize pool is $10,ooo.
Only the eligible participants, i.e., builders who've submitted valid projects, partners, organizers, and speakers, can participate.
Each voter will get 100 votes to distribute across projects and must spend all their votes to submit them.
The voting period will begin on Monday, Feb 27th, 9 am IST.
The voting deadline is Friday, March 3rd, 9 pm IST.
The results for QV will be live post plagiarism and collusion checks, on the ETHforAll leaderboard on Monday, March 6th, 9 am IST.
---
Conclusion
We are wholeheartedly, relentlessly, and fervently working towards enabling our community in every possible way until there are no talented developers who never get to materialize their dreams due to limited elbow room. We hope that having Quadratic Voting on the platform will translate into more equitable opportunities for the builders.
We want every member of our community to have the power to create real impact and actively participate in the way Devfolio operates. And now, we're more ready to do so than ever.
If you're curious to know more about how QV works, here's a list of readings and videos you can go through:
---
Stay tuned for more updates and interact with the Devfolio community at:
🐦 Twitter                                      📞 Telegram                                    🎮 Discord
Until then, Never Stop Building 🛠️
‌